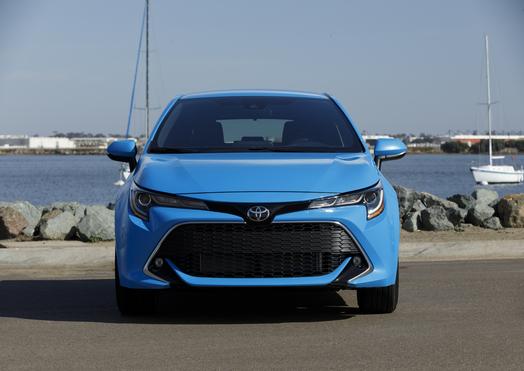 The 2019 Toyota Corolla is coming back as a hatchback. Some of the biggest new features would be a sport-tuned suspension, an all-new high-function dynamic design, a standard Toyota Safety Sense 2.0 package, an 8-inch touchscreen with Amazon Alexa, Wi-Fi connect, and smartphone integration, and best of all, a new engine option with the choice of a six-speed manual transmission or a dynamic shift CVT transmission. Available colors for this new hatchback would include Blue Flame, Silver Metallic, Blizzard Pearl, Scarlet, Oxide Bronze, and Galactic Aqua Mica.
What changes have been made to the style?
The Corolla of 2019 will come with a new stylish appearance that aims for a sophisticated, distinct, and dynamic look. To achieve this, the 2019 Corolla has been lowered and shortened by about an inch, has added wider tires to a longer wheelbase, and has changed up some of its creases and lines to give an overall unique style. For added visibility, the hood has been lowered by two inches and given a rounder nose for a more stark noticeability in its width. Overall this vehicle has been made more lightweight for greater fuel efficiency and has taken on a highly sporty look for better aerodynamics.
What is this hatchback like on the inside?
The inside of this 2019 Toyota is as always a warm and inviting experience. The Corolla aims for minimalism and spaciousness. A wider center console is quite welcoming with features like an 8-inch touchscreen, navigation, smartphone integration, climate controls, audio controls, and Entune 3.0 apps. Many of the additional features built to aid in a welcoming experience would be the wireless device charging area, silver accent stitching, heated front seats, a multi-function steering wheel, a dual-zone climate control system, combination leather seating, paddle shifters, as well as larger cup holders in both the front and rear.
What changes have been made to the engine?
For the Dynamic-Force engine, you can find multiple improvements and updates. Some of these changes would include a longer stroke, an enlarged valve nip angle, and a compression rate of 13:1. Some of the most beneficial changes would be the enhanced intake port efficiency with laser class valve seat, pistons with round top surface and slanted sidewall, lubrication enhanced with three oil jets dedicated to each cylinder, a lighter weight timing chain, a drain path within the crankcase to return oil from the cylinder head to the oil pan, a connecting rod made of high strength steel with optimized shape, a camshaft with a concave profile, and an optimized water jacket in head and block. Many of the benefits that come with these upgrades would include better fuel efficiency, a higher intake of air flow, friction reduction, less cabin noise, and a reduction in overall weight.
If you are interested in learning more about all that the 2019 Toyota Corolla has to offer, please send us a message. If you are interested in seeing what else we have for
new inventory
, please check us out online or in person. Soon we will be able to offer tours of the 2019 Corolla itself as well!