2014 Toyota Corolla Driving Impressions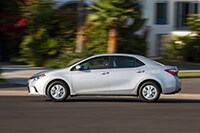 The new 2014 Corolla exceeded our expectations. It delivers a dramatically improved driving experience over the previous model. Normally, the drivetrain would be the primary factor in defining a new Corolla's driving character, but since, with the exception of the new 140-hp LE Eco Valvematic engine, the 2014 engines are carry-over from 2013, that is not possible. The continuing 1.8-liter 132-hp inline four-cylinder used in all other Corollas is an efficient, smooth, tough engine that will provide adequate performance for many years. It's nicely balanced, but at open throttle, its loud moan of ambition doesn't quite match its performance. It's not bad; it's just compact-car average.
Decidedly on the positive side, though, this Corolla package is hardy and completely at ease cruising at 80 mph, the predominant Interstate speed where we tested it. It's a full-service contemporary commuter, as its multitudes of buyers demand. And its improved EPA fuel ratings for 2014 are similarly satisfactory. Corolla LE Eco's EPA rating of 42 mpg Highway is tops among gas-powered compacts with an automatic transmission, but every one of the other models has improved its mileage over 2013.
The 2014 Corolla offers three transmissions: a 6-speed manual, a 4-speed automatic, and a CVT continuously variable transmission introduced for 2013. The 4-speed automatic was straightforward and excellent, but the CVT with Sport Mode is particularly interesting. Available on LE, LE Eco, and S models, its paddle-shifter offers seven ratios, though by definition, a continuously variable transmission contains no ears. When you downshift the CVT, it arbitrarily raises the drive ratio to mimic the effects of selecting a lower gear. For instance, driving at 70 miles per hour in seventh gear at roughly 2000 rpm, when we downshifted to sixth, the engine's rpm immediately rose to 3000 rpm, allowing either engine braking or more rapid acceleration, just downshifting with mechanical gears would. An immediate downshift from sixth to fifth raised the engine speed another 1000 rpm, with more intense effect, and so on. It's an imitation of real gears, but the effect is the same, while the package also allows the advantage of greater efficiency and improved mileage.
According to Toyota, the 2014 Corolla's ride and handling benefited from advanced chassis tuning in Europe. It shows. Though the Corolla produced a fair amount of tire noise on coarse surfaces, the ride was particularly smooth and well controlled. Shock damping was firm but without the least hint of harshness. Cornering, the chassis's roll control, too, was excellent, minimizing sudden movements that could be a distraction to the driver. Its tracking and general stability were superb as well.
The new Corolla has electric power steering, which would normally signal an automatic opportunity for road-testers to start complaining. Not at all. The Corolla's steering was sensitive, with good feel and responsiveness. Its steering effort was correctly firm, and its feedback had an active on-center presence, directly engaging the driver's attention through its live-wire immediacy.
The Corolla brakes, too, despite being drums at the rear, were adequately powerful and easily modulated. Though the car showed a very pronounced degree of dive under heavy braking, typical for economy cars, its stopping was straight, short and true.
Ride and handling exceeded our expectations, an area in which this Corolla excelled. Clearly, this is no sports sedan, yet its engaging nature and alive, athletic driving feel approached the standards we associate with much pricier European small sedans.
Unseemly as it may sound given past Corollas, the 2014 Corolla is truly fun to drive. With some of the higher-level packages available, such as the interesting paddle-shifter continuously variable transmission and the LE Eco's more powerful yet more efficient 140-hp engine, a 2014 Corolla has sufficient style and mechanical enticements to attract the thrifty younger enthusiast. But its core compact-sedan values, combined with its much-improved over-the-road personality, will be even more attractive to traditional, value-minded mainline Corolla buyers.
** Price(s) include(s) all costs to be paid by a consumer including $399 documentation fee, except for licensing costs, registration fees, and taxes.