2014 Toyota Corolla Walk Around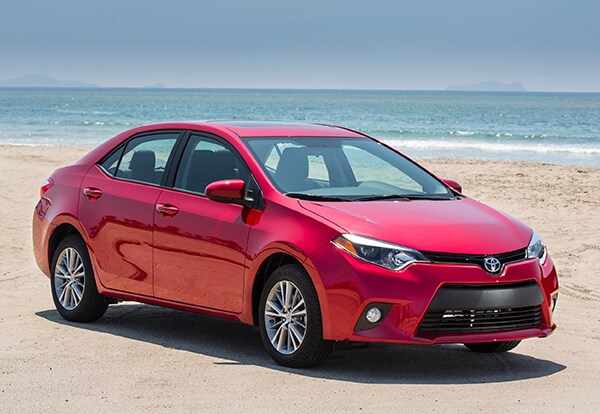 The new-generation Toyota Corolla definitely looks new. Whether it's the gaping mouth of the Corolla LE and L or the Lexus-like Charlie Chaplin low mustache grille of the look-at-me Corolla Sport, the Corolla has set aside the appliance look that characterized its precursor. While Toyota is not renowned for taking aggressive styling steps, this eleventh-generation Corolla wants to be seen and admired. On those terms, its outward appearance is a charismatic, dynamic success.
While the Corolla is still a compact car, its exterior proportions have changed in some subtle but important ways, improving both its appearance and usability. It looks larger and more accommodating for the best of reasons: it is both. Compared to the previous model, the 2014 Corolla is 2.6 inches longer, with a noticeably increased wheelbase of 3.9 inches. It is almost half an inch wider and 0.4-inch lower, as well. These changes result in an impression of greater sleekness in addition to greater cabin roominess.
Apart from the distinctive Corolla frontal styling, this new model is a clean exercise in well-rounded contemporary small-car design. The standard headlights are LED units, and the body's clean lines produce extremely low coefficient-of-drag figures of 0.30 with 17-inch wheels, 0.29 Cd with 16-inch wheels, and just 0.28 Cd in the Corolla LE Eco with 15-inch wheels. At highway speeds, these technicalities translate to considerable fuel mileage savings. The LE Eco with 15-inch wheels delivers Corolla's EPA Highway mileage figure of 42 mpg.
Speaking of wheels, the Corolla is supplied with a fairly broad variety of really attractive sport wheels that give it an excitingly up-market look.
Interior
The increased overall length of the 2014 Corolla allows a considerable increase in cabin space and a genuinely impressive increase in rear seat legroom. The rear seat hip point is moved rearward a full three inches, producing up to 5.1-inches more rear legroom. As never before, the rear of the Corolla is a fully accommodating adult seating space.
Increased overall vehicle length has also allowed an improved driving position, with the steering column angle reduced from 24 degrees to 22 degrees. Front seat adjustment range has also increased by over half an inch. Small as these changes sound, in the tight confines of a compact car, every increase in useable occupant space is hard-won.
The first impression climbing into the new Corolla's driver's seat is disconcerting, however. The materials and switchgear are of high quality, with nice soft-touch controls and coverings applied throughout. But the front seat feels oddly crowded and claustrophobic, as if you need to move your seat further back, except your seat is already back as far as it should properly be.
The problem is the great, black rectangular mass of the dashboard itself. It is a jutting, heavy-looking form that seems to take far more cabin space than it should, and its straight lines and hard angles have none of the fluidity and grace that enriches the rest of the new Corolla. To be frank, it is old-fashioned and out of harmony. And the shiny piano-black center-stack trim that Toyota is very proud of, while it is indeed elegant, only contributes to the dashboard's massive feel.
The big black dash is unfortunate because the gauges and instruments are first-rate, fully legible, and well placed to be read in dark or direct sun. Two instrument layouts are provided. Corolla L and Corolla LE use a three-gauge layout that includes the speedometer, tachometer, and tertiary instruments. Corolla S, intended to be sportier for more enthusiastic younger buyers, features a more traditional sports-car arrangement, with two main instruments, the speedometer and tachometer, dominating the display, and all other information given minor attention.
One of the Corolla's strongest suits is its seats. The front seats are absolutely superb, with firm, well-fitted side bolsters and proper lumbar support. These seats would be perfectly at home in a high-quality sports car. Even the rear seating is exemplary. Given its size, the Corolla makes no pretence of intending to seat three; instead, it provides two stationary, excellently formed bucket rear seats that will give steerage class the kind of comfort and support it deserves. Well done.
The new Corolla's rear seat also provides slightly more shoulder room, to go with its generously increased legroom. The available fabric and Softex upgrade upholstery are attractive, and the mixed-media combination of Sport seats in the Corolla S is particularly good looking.
Toyota's latest Entune connectivity suite adds to the standard AM/FM/CD system with MP3, AUX, and USB 2.0 ports, phone book access, advanced voice recognition and Bluetooth wireless technology. The Premium system adds a touchscreen display with three-way screen-split, navigation, and customizable multiple app functions. The screens are swipe-able, for easy selection of your most-used apps. And if you have to take an incoming call while listening to something you like on the radio, the system automatically records the last 20 minutes of all broadcasting. Very nice, provided you believe that talking on the phone, hands-free or not, is a safe practice while driving.
Automatic climate control is as expected. Excellent. The rearview camera had very useful tracking guides. Cruise control is the standard Toyota system and excellent.
Thanks to Corolla's greater length, trunk space has grown to 13 cubic feet, and the 60/40 split rear seats invite stowing skis and other long cargo.
** Price(s) include(s) all costs to be paid by a consumer including $399 documentation fee, except for licensing costs, registration fees, and taxes.